As a working family we try to save as much money as possible. One way is to go grocery shopping with coupons. As a child we clipped coupons but I never understood the best way to use them. I've been following several bloggers and now I understand the timing of using coupons, saving for the proper time, combining them with ongoing sales. I'm exceptionally proud of today's grocery trip and had to blog about it.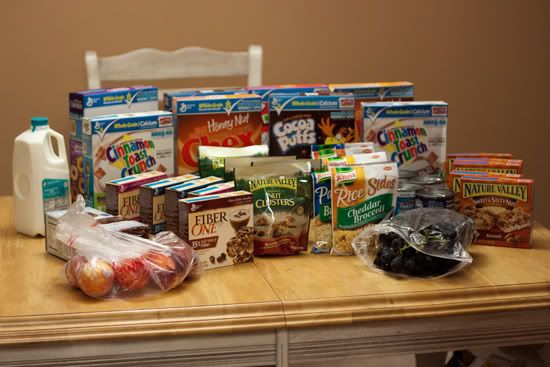 Transaction 1
5 boxes Nature Valley granola bars.
Buy 4 Save $4 sale
5 $.50 coupons (self-checkout machine wouldn't scan coupons correctly so cashier had to manually enter them and she abided by the no doublng notation)
Final price $4.95. Received $3.50 catalina
Transaction 2
5 boxes Fiber One granola bars
2 boxes Cocoa Puffs
2 boxes Honey Nut Chex
1 box Trix
1 box Cinnamon Toast Crunch
1 box Multigrain Cheerios
5 bags Nature Valley Nut Lovers
4 pkgs Knorr Sides
4 cans Progresso veggie soups
2 pkgs Pillsbury Lava Brownies
1 half gallon milk
2 newspapers (not pictured)
2 lbs nectarines
3 lbs grapes
Several in ad, printed and electronic coupons
$3.50 catalina from previous transaction
$2.00 catalina from a previous transaction
Final price $18.21 and received $3.50 catalina
If I had had more time and the lines weren't so long I would have bought the 5 fiber one bars separately and used that catalina for the final purchase.
So the total for the two transactions is $23.16 minus the $3.50 catalina that we'll use for a future grocery run. 🙂